Video
Live recordings of our concerts available on DVD for 21 (US$) or 15 (€) each + shipping and handling
2010 Asian Olympic Games Concert
Monday, November 15, 2010
Guangzhou, China
This program with participation of 68 artists from Asia and Europe was produced by Melody for Dialogue Association on the occasion of 16th Asian Games in Guangzhou, China. Shenzhen symphony Orchestra accompanied these artists and the program was held in the Guangzhou Opera House on 15 Nov 2010.
Debussy, but not only – "Music for a green planet"
Thursday, October 1, 2009
A multi-cultural concert in a Dialogue between musicians from global community and Prague Philharmonic Orchestra conducted by Maestra Miriam Nimcova.
Rossini, but not only / "l'Italiana in Algeri"
Monday, November 26, 2007
Conducted by Maestri Boudarham and Vlajnic-with Prague Philharmonic Orchestra in Paris
Mozart but not only…(Part 3 – Magic Flute)
Monday, November 6, 2006
Concert on the occasion of Closure of UNESCO's 60th anniversary celebration.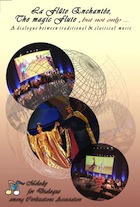 Runtime - 2 Hours
More info about this event
Mozart but not only…(Part 2 – Voice of Women)
Wednesday, March 8, 2006
International Women's Day Concert at UNESCO March 8, 2006, Paris
Mozart but not only… (Part 1)
Wednesday, November 16, 2005
Concert to close UNESCO's 60th Anniversary Celebration